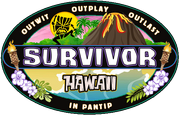 These are the apps for this wiki's first season, Survivor: Hawaii. This tends to be more story driven than other ORGs. The best part is, you don't need FaceBook to play here. I need 16 contestants. Once I have my sixteen, then we can start.
Here's the app form:
Name/Username/Age/Nationality/Gender
Reason for being on Survivor:
3 Words to Describe You?:
Why do you want to be the Sole Survivor?:
Mangatar:
Ad blocker interference detected!
Wikia is a free-to-use site that makes money from advertising. We have a modified experience for viewers using ad blockers

Wikia is not accessible if you've made further modifications. Remove the custom ad blocker rule(s) and the page will load as expected.